Pakistan and India - Common Origins, Divergent Trajectories. Why?
In a time of existential crisis, Pakistanis continue to believe that infusing the right "Islamic" spirit into the population will somehow see it through. Critics say that experience shows otherwise.
Pakistanis—both religiously orthodox and liberal—believe that the founder of Pakistan had a game plan for the state after it came into being in 1947. There was none.
Nationalist Hindus imagine India was populated in ancient times by a Hindu nation whereas nationalist Muslims tie Pakistan's origin with pre-existing Muslim identity and the first Muslim invader arriving on Indian soil. Historical evidence refutes both.
The author will discuss these and other myths that are widely held in Pakistan as well as in India.
Dr. Pervez Hoodbhoy earned his Ph.D. in nuclear physics from MIT and is also a prominent anti-nuclear activist. His earlier book was Confronting the Bomb: Pakistani and Indian Scientists Speak Out. As an advocate for science and reason in Islam, his first book was Islam and Science: Religious Orthodoxy and the Battle for Rationality, which included a foreword by the physics Nobel Prize winner Abdus Salam.
As a science popularizer, Hoodbhoy received the UNESCO's Kalinga Prize. Earlier he had received the Burton Award for Electronics and the Abdus Salam Prize for Mathematics. He is also a recipient of the Joseph A. Burton Award from the American Physical Society, is a sponsor of The Bulletin of the Atomic Scientists, and was included among the top 100 global thinkers by Foreign Policy magazine in 2011. Hoodbhoy's newest project is The Black Hole, a community center in Islamabad for nurturing science, art, and culture. It houses an auditorium for speakers who would otherwise go unheard, a library, and a science lab for children.
MLF ORGANIZER
Faruq Ahmad
NOTES
An Asia-Pacific Affairs Member-led Forum program. Forums at the Club are organized and run by volunteer programmers who are members of The Commonwealth Club, and they cover a diverse range of topics. Learn more about our Forums.
Outreach Partner: 1947 Archive.
Photos courtesy the speakers.
Speakers
Ph.D., Scientist; Public Intellectual in Pakistan; Author, Pakistan: Origins, Identity and Future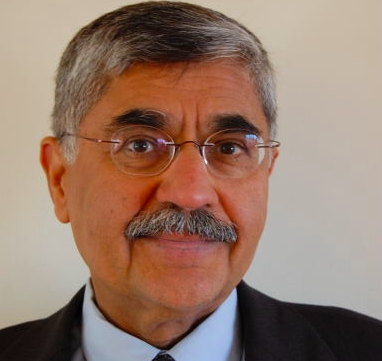 Entrepreneur; Investor; Advisor; Founding Partner, Palo Alto Capital Advisors