CORPORATE & FOUNDATION SUPPORT
The Commonwealth Club's success depends upon the commitment of our corporate and foundation supporters who care deeply about fostering open discussion, optimism and open-mindedness in the San Francisco Bay Area and throughout the nation.
Support Us Today!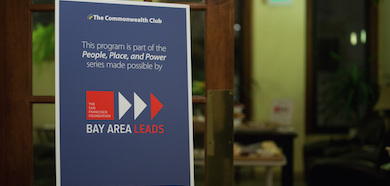 Program sponsorship at The Commonwealth Club is a unique opportunity for companies and organizations to partner with us in a variety of ways. We offer tailored options—from individual programs and program series to receptions and grand opening celebrations in 2017 for 110 The Embarcadero—to fit your brand, priorities and business goals.
The Club's Corporate Membership provides our corporate supporters direct access to thought leaders of the day and an opportunity to network with other business leaders and colleagues from diverse backgrounds around the Bay Area. With more than 400 annual events at the Club, membership offers employees learning and development opportunities year-round.
FEATURED PARTNERSHIP
Since 1948, The San Francisco Foundation has been firmly committed to serving the people of our region. We are an incubator for community investment, original ideas and passionate leadership in the Bay Area.
As one of the nation's largest community foundations in grantmaking and assets, we give millions of dollars a year to make the Bay Area the best place it can be.