History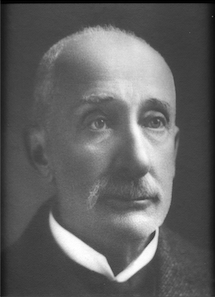 The Commonwealth Club of California was founded in 1903 by San Francisco Chronicle editorial writer Edward F. Adams (right), then in his late 60s. He remained active in the Club until his death 26 years later.
Other founders included John P. Young, managing editor of the Chronicle; Benjamin Ide Wheeler, president of the University of California; Frederic Burk, president of what became San Francisco State University; and William P. Lawlor, an attorney who later became a justice of the California Supreme Court.
Adams' concept of a public service club, where intelligent men (and since 1971, women) could debate issues of public concern, was shared by a small group of educators, government officials and community leaders.
The Club soon became established as an integral part of San Francisco and a major influence throughout California.
The hallmark of the early Commonwealth Club was studies on a variety of topics, some reflecting a social concern (child labor–1906; Indian rights–1909; air pollution–1913) and others that led to social change and state legislation (civil service processes–1904; California banking laws–1908; selection of jurors–1920; the public defender's office–1932).
Throughout its history, the Club has benefited from a steady stream of national and international political and social notables who have appeared before the organization, beginning with Theodore Roosevelt in 1911.
In 1924, the advent of radio presented new opportunities to take The Commonwealth Club outside of the Bay Area with a statewide radio broadcast. In the 1950s, the radio show broadened beyond California, and now is carried on more than 230 radio stations across the country.
The program is transmitted via the Public Radio Satellite System to public radio stations and sent digitally to commercial radio stations. Select Club programs are also broadcast on television by C-SPAN and some Northern California stations, and a weekly Club program airs on the statewide California Channel. Hundreds of Club videos are available on Fora.tv and YouTube.com, and thousands of programs are available as iTunes podcasts.
The California Book Awards were established by the Club in 1931 to provide recognition and encouragement to California authors. Over the years, such literary luminaries as John Steinbeck, William Saroyan, Wallace Stegner and Amy Tan have received California Book Awards.
As early as 1979, the Club offered programs in the South Bay, but these program offerings expanded significantly in 1997 when the World Forum of Silicon Valley merged with The Commonwealth Club. The Commonwealth Club/Silicon Valley is now actively engaged in developing programs that address issues pertinent to the vibrant, maturing Silicon Valley community. Beginning in 1990, The Commonwealth Club began offering regular programs in other regions of the Bay Area as well, and these regional programs — in Marin and Sonoma Counties and an expanded effort in Lafayette in the East Bay — are now an important part of the Club's programming efforts.