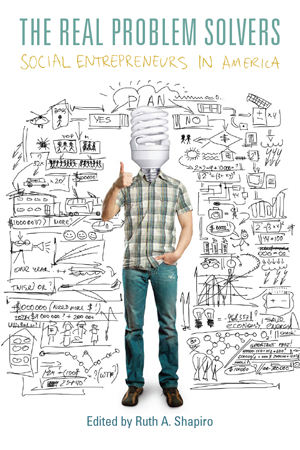 Social Entrepreneurs in America
Today, "social entrepreneurship" describes a host of new initiatives, and often refers to approaches that are breaking from traditional philanthropic and charitable organizational behavior. The goals of these new efforts are consistent with their predecessors: making the world a better place. What has changed is some of the ways in which social entrepreneurial work is getting done. Nowhere is this more true than in the United States-where, from 1995 - 2005, the number of non-profit organizations registered with the IRS grew by 53%. But, what types of change have these social entrepreneurial efforts brought to the world of civil society and philanthropy? What works in today's environment? And, what barriers are being broken through these changes to providing social good?
The Real Problem Solvers brings together leading entrepreneurs, funders, investors, thinkers, and champions in the field to answer these questions from their own, first-person perspectives. Based on a series of talks at The Commonwealth Club of California, these accounts give readers insights into the work of key individuals, but also demonstrate trends at the forefront of social change. The core chapters in the book closely mirror the authors' original talks, and are anchored by an introduction, a conclusion, and question-and-answers sections that weave together the voices of various contributors. Contributors' views and experiences offer a wide-ranging picture of social entrepreneurship, and in no other book are so many leaders presented side-by-side. Therefore, this is the ideal accessible and personal introduction for students of and newcomers to social entrepreneurship.
"Ingenuity, initiative, and determination are valued traits in any enterprise. Social entrepreneurs apply these talents to solving difficult social problems. This book showcases a number of these commendable people and inspires the reader to think deeply about his or her own contributions to society." —George P. Shultz, Former U.S. Secretary of State
"In the past ten years, a rich ecosystem has developed around the idea, energy, and success of social entrepreneurs. With years of experience, Ruth Shapiro captures the complexity and complementarity of the men and women whose innovation and drive are changing the way we solve social problems and should be required reading for all." —Bill Draper, Co-Chair of the Draper, Richards, Kaplan Foundation, General Partner, Draper Richards LLC, and author of The Start-up Game
About the Editor
Dr. Ruth A. Shapiro is the principal of Keyi Strategies, a consulting firm specializing in creating broader networks, understanding, and business ventures between individuals and companies in Asia, Europe, and the United States. She is also social entrepreneur in residence at The Commonwealth Club of California. Dr. Shapiro was the founder of the Asia Business Council and served as its first executive director since its inception in 1997; she is now senior advisor. Dr. Shapiro holds a Ph.D. from Stanford University, masters degrees from Harvard University and George Washington University, and a B.A. from the University of Michigan.
Selected Table of Contents 
"Investing in Micro-finance"
– Premal Shah, President, Kiva
"Dollars, Sense and Dignity"
– Conchy Bretos, Founder & CEO, MIA Consulting Group
"The Power of an Economic Niche"
– Mary Houghton, Co-Founder, ShoreBank
"Building on Faith"
– Louise Burnham Packard, Founder & Executive Director, Trinity Boston Foundation
"The Power of Social Entrepreneurs"
– Sally Osberg, President & CEO, The Skoll Foundation
"A Hybrid Approach to Supporting Social Entrepreneurs"
– Matt Bannick, Managing Partner, Omidyar Network
"Harnessing Entrepreneurial Energy"
– William Foote, Founder & CEO, Root Capital
"The Strength of Business in Sustainable Change"
– Jacqueline Novogratz, Chief Executive Officer, Acumen Fund
"A Community Committed to Social Entrepreneurship"
– Christopher Gergen, Co-Founder & CEO, Bull City Forward
"Social Entrepreneurship and Social Innovation — What's New and Why It Is Important"
– Kriss Deiglmeier, Executive Director, Stanford Center for Social Innovation
"The Blended Value Imperative" – Jed Emerson, Founder, Blended Value
"Collaborative Entrepreneurship: The Way to the Everyone a Changemaker Society"
– Bill Drayton, Founder & CEO, Ashoka
"Building Social Businesses"
– Muhammad Yunus, Founder, Grameen Bank; Chairman, Yunus Centre