CORPORATE & FOUNDATION SUPPORT
The Commonwealth Club's success depends upon the commitment of our corporate and foundation supporters who care deeply about fostering open discussion, optimism and open-mindedness in the San Francisco Bay Area and throughout the nation.
Support Us Today!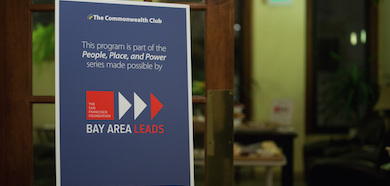 Program sponsorship at The Commonwealth Club is a unique opportunity for companies and organizations to partner with us in a variety of ways. We offer tailored options—from individual programs and program series to receptions and grand opening celebrations in 2017 for 110 The Embarcadero—to fit your brand, priorities and business goals.
The Club's Corporate Membership provides our corporate supporters direct access to thought leaders of the day and an opportunity to network with other business leaders and colleagues from diverse backgrounds around the Bay Area. With more than 400 annual events at the Club, membership offers employees learning and development opportunities year-round.
FEATURED PARTNERSHIP
Located on San Francisco's waterfront, La Mar Cebichería Peruana is a tribute to one of the cornerstones of Peruvian cuisine, cebiche, and the environment created to enjoy it in, the cebichería. Under world-renowned Chef Gastón Acurio's restaurant group, the menu offers a glimpse into traditional and authentic Peruvian flavors under the direction of Executive Chef Victoriano Lopez. Pulling from his roots and Peruvian heritage, Chef Lopez's adventurous menu showcases sustainable seafood and eco-friendly ingredients in a colorful environment that emulates the spirit of Peru. Chef Lopez aims to intrigue diners with a blend of traditional Peruvian fare and inimitable dishes inspired by his unique artistry and passion for cuisine that is so close to home. As the best way to discover Peruvian cuisine is through sharing plates, La Mar's dishes are smaller to encourage communal dining.