CORPORATE & FOUNDATION SUPPORT
The Commonwealth Club's success depends upon the commitment of our corporate and foundation supporters who care deeply about fostering open discussion, optimism and open-mindedness in the San Francisco Bay Area and throughout the nation.
Support Us Today!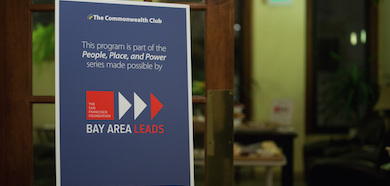 Program sponsorship at The Commonwealth Club is a unique opportunity for companies and organizations to partner with us in a variety of ways. We offer tailored options—from individual programs and program series to receptions and grand opening celebrations in 2017 for 110 The Embarcadero—to fit your brand, priorities and business goals.
The Club's Corporate Membership provides our corporate supporters direct access to thought leaders of the day and an opportunity to network with other business leaders and colleagues from diverse backgrounds around the Bay Area. With more than 400 annual events at the Club, membership offers employees learning and development opportunities year-round.
FEATURED PARTNERSHIP
Hotel VIA is a chic 159-room hotel in the South Beach neighborhood that goes beyond boutique. Hotel VIA blends old school hospitality with progressive San Francisco attributes and is dedicated to forward-thinking technology, environmental consciousness, and elevated levels of personalization in hospitality and service. Hotel VIA's name was inspired by the "via" definition as "the way to your destination" and offers guests easy access to BART, Caltrain, Muni, ferry, freeways and bridges. The hotel is the only hotel conveniently located across the street from AT&T Park, home to the city's beloved Giants baseball team. Evoking a sense of individuality and functionality, Hotel VIA's design was created to complement its unique location in a full-service neighborhood in San Francisco. From the outdoor rooftop to the tastefully decorated ballpark view suites, each floor is adorned with modernized accents, contemporary, custom-made furnishes, and forward-thinking technological amenities. Hotel VIA offers a stunning rooftop lounge in South Beach with 360-degree views of the city, a breakfast café, a versatile meeting room, spectacular event spaces, a communal workspace and technology hub, a fully-equipped fitness center and an upscale cocktail bar, known as Bar VIA.