Exhibits at the Club
Exhibits of artworks at the Club's Farmer Gallery are available during most business hours and, unless otherwise noted, are free to view. Many exhibits also feature a special event featuring the artist.
May 1 through June 29: Linda Fong
Linda Fong relocated to the Bay Area from Honolulu in 2002. With a degree in design from Carnegie Mellon University, she worked for many years as a graphic designer and freelance illustrator in New York, Philadelphia and Hawaii. She is now working as an artist full time at her studio in the Hunters Point Shipyard in San Francisco. She has shown her work in numerous exhibitions, both in Hawaii and in the Bay Area, and each fall she participates in San Francisco Open Studios.
Artist Statement
Ordinary objects and random observations capture my attention and trigger jumbled reveries about life and its confusing characteristics. In attempting to make sense of things—or not—I generate images using a mix of both narrative and abstract elements. My paintings are populated with imaginary forms obliquely connected to real life counterparts. Abstraction and improbable colors are combined with more traditional pictorial devices—perspective and layering, for instance. With these images as points of departure, I hope that viewers can experience personal connections and form individual interpretations.
February 7 through April 30: Photographer Michael Mudd
The Visual Poetry of Landscape
Artist Statement
Landscape is visual poetry. Some artists portray it in a literal, objective way, capturing physical reality in striking detail. Others are more expressionist, reimagining what they see and reshaping it to convey subjective feelings. I follow the second path.
I like to think of my landscape images as a kind of photographic unconscious, a letting go in which the familiar is felt as dreamstate—sometimes pastoral and serene, sometimes filled with fiery light, and other times dark and brooding. For me, at least, these images become visual archetypes of mood and emotion.
The basic form of each image is captured by a practiced use of motion during a long exposure – in a sense, painting with the camera. The unique movement of each pass renders a singular visual moment. Unlike with static image making, the world can be interpreted in more animated and expressive ways.
I then digitally enhance color and light, and often blend the image with a mix of textures taken from a variety of sources. The choice of textures might create the feel of anything from an old tintype to worn leather to a fading fresco.
Each image is printed with archival pigment inks on archival paper.
About the Artist
At the age of 14 I was handed a camera; 50 years later I have yet to put it down. Along the way, what I photograph, and how, have widened. As a young adult I was fortunate enough to travel throughout Europe, and capturing the essence of other cultures is still a passion today. For three decades I practiced traditional landscape photography, mostly in the American West. But it wasn't until I retired from a career in communications in 2004 that I truly found my voice.
Frustrated by lousy light one day in the mountains of Colorado, I decided to experiment with camera motion. I got lucky. The first image I made was a good one. I've been at it ever since.
I've never tried to earn a living as a photographer. I do love sharing my work with others, but I don't enjoy the business of buying and selling. As a result, I've been half-heartedly in and out of galleries and juried shows over that last 10 years.
For a long time I've had a saying about my experience as a photographer: "The best part is being there." It's not the act of capturing what I see that counts most. It's the emotions I experience that make me want to capture what I see. And if my images are able to evoke those same feelings in the viewer, then I know I've succeeded.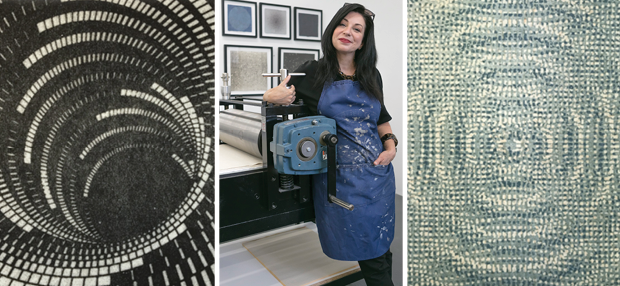 January 8 through February 26: Carrie Ann Plank, Printmaker
Carrie Ann Plank is an artist working in the mediums of printmaking, painting and glass. Plank's work is included in many private and public collections, including the Fine Art Archives of the Library of Congress, Fine Art Museums of San Francisco, Achenbach Foundation for Graphic Arts, the Guanlan Print Art Museum in China, and the Iraq National Library in Baghdad. Recent and upcoming noteworthy shows include solo shows at DZINE Gallery in San Francisco, The Academy of Art University, Bullseye Projects in Portland, Oregon, and Fourth Wall Gallery, Oakland, California. Recent residencies include Edition/Basel: Printed in Cuba at the Taller Experimental de Gráfica de La Habana in Havana, Cuba; the Íslensk Grafík in Reykjavik, Iceland; Edition/Basel: Printed in Basel at Druckwerk in Basel, Switzerland; Mullowney Printing in San Francisco, California; Haystack Mountain School of Craft in Deer Isle, Maine; and Bullseye Glass in Emeryville, California. Additionally, Plank is the director of the printmaking MFA and BFA Programs at the Academy of Art University. She is active in the local arts community as a participant, juror and volunteer, and is a board member of the California Society of Printmakers. She received her Bachelor of Fine Arts in Printmaking from East Carolina University and her Masters of Fine Arts in Printmaking from the Pennsylvania State University.
September 12 through December 15: Tom Killion
Tom Killion's Japanese-style woodcut prints of the California landscape reflect the artist's appreciation of Japanese technique and aesthetics, as well as his love of California's coast and mountain landscapes. This show includes some of Killion's finest wood- and lino-cut prints drawn from his personal collection, as well as more recent images from editions that are still in print and available. Scenes of the northern and central coast, Mt. Tamalpais and the High Sierra are particularly highlighted.