Upcoming Events: Arts
Wed 5/11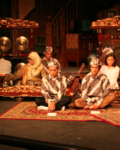 Lecture-demonstration: The Gamelan Degung Ensemble of West Java
Date:
Wed, May 11, 2016
Time:
12:00 PM
View More
Henry Spiller, Ph.D., Professor and Chair, Department of Music, University of California Davis
UC Davis Gamelan Ensemble, with guest artist Burhan Sukarma
The development of a musical ensemble consisting of tuned bronze percussion instruments, drums, and a bamboo flute, collectively called degung, mirrors the turbulent history of West Java, Indonesia, where it originates, as well as changes in the Sundanese culture that dominates the region. Several selections performed by the eight-person UC Davis Gamelan Ensemble, joined by guest artist Burhan Sukarma—a renowned virtuoso on suling (bamboo flute)—will illustrate this exploration of Indonesian history as reflected in musical style and repertory.
Sat 5/14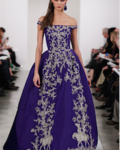 Private Docent Tour of Oscar de la Renta: the Retrospective
Date:
Sat, May 14, 2016
Time:
2:45 PM
View More
This world-premiere retrospective celebrates the life and career of one of the world's most influential fashion designers. Including more than 130 pieces produced over five decades, the garments are organized into thematic sections: early work; Spanish, Eastern, Russian and garden influences; daywear and eveningwear; and ball gowns and red carpet ensembles. The special exhibition traces the rise of de la Renta's career in Spain; his formative years in the world's most iconic fashion houses; and his eventual role as a designer for many of the most influential and celebrated personalities of the 20th and 21st centuries.