Upcoming Events: Bay Gourmet
Mon 8/15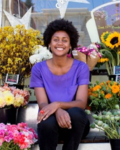 Women at the Table: Leaders in the Good Food Movement
Date:
Mon, August 15, 2016
Time:
6:30 PM
Part of our special series Big Solutions for Big Problems
View More
Joann Lo, Executive Director, Food Chain Workers Alliance; Vice President, Los Angeles Food Policy Council's Leadership Board
Brittni Chicuata, Government Relations Director, American Heart Association | American Stroke Association
Kristyn Leach, Farmer, Namu Farm
Dominica Rice Cisneros, Chef and Owner, Cosecha Cafe (Oakland)
Shakirah Simley, Community Development Director, Bi-Rite Market—Moderator
Critics argue that the industrial food system in the United States is beset with big problems: corporate consolidation of the food supply, huge inequities in pay and benefits for food workers, lack of rights for farm workers, and farming practices that prioritize profits over the health of the planet. But there is a growing movement demanding that these problems be addressed, and we have called together the women at the helm of the movement. Our women at the table will discuss the powerful work they are doing to create change and provide solutions to build a food system that is good, clean, and fair for all.