Past Event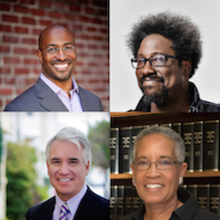 Mon, Aug 1 2016 - 6:30pm
W. Kamau Bell, Socio-Political Comedian; Host, CNN's "United Shades of America"
Judge LaDoris Cordell (ret.), Member, Blue Ribbon Panel on Transparency, Accountability, and Fairness in Law Enforcement
George Gascón, San Francisco District Attorney; Former Chief, SFPD
Van Jones, CNN Commentator
Scott Glover, CNN Justice Reporter—Moderator
From Minnesota to Baton Rouge, Ferguson, New York and even here in San Francisco, the nation is struggling with an increasing number of incidents where images are captured depicting controversial uses of force by police on predominantly black and brown members of the community. The culture within law enforcement departments from coast to coast is under fire, with seemingly no end in sight.
In San Francisco, the Blue Ribbon Panel on Transparency, Accountability, and Fairness in Law Enforcement was established by San Francisco District Attorney George Gascón as an advisory body in May 2015 following revelations that 14 San Francisco Police Department (SFPD) officers had exchanged numerous racist and homophobic text messages. Since then, the fatal officer-involved shootings of Mario Woods, Almicar Lopez, Luis Gongora and Jessica Williams have prompted outrage from the community.
The Blue Ribbon Panel is comprised of three distinguished jurists, eight top-tier law firms and five law schools that investigated the SFPD's use of force, stops, searches and arrests, personnel practices, culture, internal discipline, crime clearance and data, and external oversight. They recently released an extensive report detailing their findings and corresponding recommendations.
The Commonwealth Club and GLIDE Center for Social Justice invite you to this important and timely discussion about the recommendations made by the Blue Ribbon Panel, as well as what it will take to achieve true justice and reform in police department culture both here and across the country.