Past Event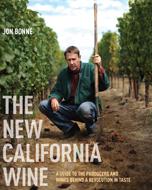 Thu, Dec 5 2013 - 6:30pm
This program is sold out. You may add your name to the waitlist below.
Jon Bonné, Wine Editor, San Francisco Chronicle; Author, The New California Wine
In conversation with Clarisse Kostrzewski, Founder and CEO, The Right Blend
The New California Wineis the untold story of the Golden State's wine industry. James Beard Award-winning wine editor Bonné introduces us to the innovative producers who are rewriting the rules of contemporary winemaking. From their quest to express the uniqueness of California terroir to the continuing battle to move the state away from the overly-technocratic, reactionary practices of the recent past, Bonné takes us to the front lines of the California wine revolution. Join us as he shares the fascinating stories, philosophies and techniques of the iconoclastic young winemakers who are changing the face of California viticulture.
After the interview stick around for a complimentary, one-of-a-kind wine tasting with 11 of California's top wineries featured in Jon's book: Arnot-Roberts, Littorai Wines, The Scholium Project, Bluxome Street Winery, Bravium Winery, Donkey and Goat Winery, Scribe Winery, Matthiasson Wines, Turley Wine Cellars, Broc Cellars and Y Rousseau Wines.
Location: SF Club Office
Time: 6 p.m. check-in, 6:30 p.m. program, 7:30 p.m. wine tasting and book signing
Cost: $25 non-members, $15 members (includes tasting)
Also know: All attendees must be 21 years or older. Bonné is also speaking in Silicon Valley on November 19.