Past Event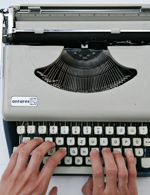 Thu, Nov 7 2013 - 6:30pm
Grant Faulkner, Executive Director, National Novel Writing Month (NaNoWriMo)
Guy Kawasaki, Venture Capitalist; Blogger, How to Change the World; Author, APE: Author, Publisher, Entrepreneur - How to Publish a Book - Moderator
All attendees will receive a promo card to receive a free copy of Guy Kawasaki's APE: Author, Publisher, Entrepreneur
Come writers! Poets! Thinkers! Join renowned venture capitalist and former chief evangelist for Apple Guy Kawasaki in an inspiring conversation with Grant Faulkner, Executive Director of National Novel Writing Month (NaNoWriMo). They will dig deep to talk about the art and craft of writing, overcoming the dreaded writer's block and achieving your writing goals to become an artisanal publisher. Unleash thy inner Shakespeare!
Location: Lafayette Library, 3491 Mt. Diablo Blvd., Lafayette
Time: 6 p.m. check-in, 6:30 p.m. program
Cost: General admission (includes copy of APE): $22 non-members, $12 members, $7 students (with valid ID).
Also know: Photo by Szantoszalbolcs/Flickr.