Past Event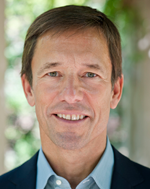 Tue, Aug 6 2013 - 7:00pm
Note new location!
Mark Tercek, CEO, The Nature Conservancy; Co-author, Nature's Fortune: How Business and Society Thrive by Investing in Nature; Twitter: @MarkTercek
Alison van Diggelen, Host, "FreshDialogues" and Contributer, NPR's KQED Radio - Moderator
Can protecting nature really be a good investment? Tercek argues that conservation is the new way to do business. He offers an essential guide of sustainable opportunities and green infrastructure developments from across the country. Learn why nature protection is the smartest business and investment decision we can make.
Location: Schultz Cultural Hall, Oshman Family JCC, 3921 Fabian Way, Palo Alto
Time: 6:30 p.m. check-in, 7 p.m. program, 8 p.m. book signing
Cost: $20 non-members, $12 members, $7 students (with valid ID)
Also know: Photo by Dave Lauridsen