Past Event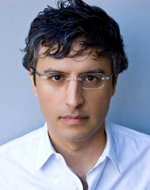 Tue, Jul 23 2013 - 6:30pm
Reza Aslan, Author, Zealot, No God But God and How to Win a Cosmic War; Editor, Tablet and Pen; Twitter: @rezaaslan
Michael G. Maudlin, Senior Vice President and Executive Editor, HarperOne, an imprint of HarperCollins Publishers
Think you know about the life and death of Jesus of Nazareth? Think again. Internationally acclaimed author and scholar Aslan, armed with 20 years of fastidious research, presents a bold and fresh perspective on Jesus as both a man and historical figure, a radical political revolutionary invested in the nationalist struggle for freedom from Roman occupation. Join Aslan as he balances the Jesus of the Gospels against historical sources, creating a vivid picture of one of the most enigmatic and influential people of all time.
Location: Lafayette Library, 3491 Mt. Diablo Blvd., Lafayette
Time: 6 p.m. check-in, 6:30 p.m. program, 7:30 p.m. book signing
Cost: General: $22 non-members, $12 members, $7 students (with valid ID). Premium (includes book and priority seating in the first few rows): $45 non-members, $35 members.