Past Event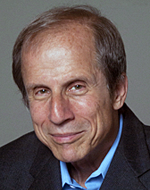 Thu, Mar 21 2013 - 6:30pm
Michael Krasny: Twenty Years and Counting at KQED
Advance ticket sales have ended. Additional tickets available at the door.
Host, KQED Radio's "Forum"; Professor of English, SFSU; Author, Off Mike: A Memoir of Talk Radio and Literary Life and Spiritual Envy: An Agnostic's Quest
For 20 years, award–winning journalist Krasny has been bringing lively, intelligent discussion of public affairs, literature and the arts to listeners around the Bay Area and the nation. The host of KQED Public Radio's "Forum," Krasny has interviewed an astonishing number of notable figures who have passed through San Francisco, including Jimmy Carter, Cesar Chavez, Noam Chomsky, Hillary Rodham Clinton, Francis Ford Coppola, Don DeLillo, Newt Gingrich, Al Gore, Norman Mailer, Toni Morrison, Barack Obama, Rosa Parks, Nancy Pelosi, Robert Redford, Philip Roth, Salman Rushdie, Archbishop Desmond Tutu, John Updike and many more. To mark Krasny's 20-year milestone at KQED, San Francisco Mayor Ed Lee even declared February 15, 2013 "Michael Krasny Day." Join us for an event commemorating Krasny's distinguished career, with stories about his favorite interviews and most memorable moments, both on and off mike.
Location: Lafayette Veterans Memorial Hall, 3780 Mt. Diablo Blvd., Lafayette
Time: 5:45 p.m. check-in, 6:30 p.m. program
Cost: $22 standard, $12 members, $7 students (with valid ID). Premium (seating in first few rows)$45 standard, $30 members.
Also know: Photo by Greg Habiby