Past Event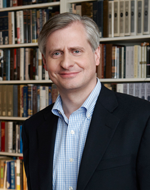 Thu, Nov 29 2012 - 6:00pm
Jon Meacham
Contributing Editor, Time magazine; Author, Thomas Jefferson: The Art of Power
Dr. Joseph Fink, President Emeritus, Dominican University of California - Moderator
Thomas Jefferson hated confrontation, and yet, according to Meacham, his understanding of power and human nature enabled him to prevail. In his biography of Jefferson, the Pulitzer Prize-winning author brings to life an extraordinary man and his remarkable times. Thomas Jefferson: The Art of Power gives us Jefferson the politician and president, a complex human being forever engaged in the wars of his era. Philosophers think; politicians maneuver. Jefferson's genius, Meacham argues, was that he was both and could do both, often simultaneously. Such is the art of power.
Location: SF Club Office
Time: 5:30 p.m. check-in, 6 p.m. program, 7 p.m. book signing
Cost: Regular: $20 standard, $12 members, $7 students (with valid ID). Premium (includes priority seating and copy of book): $40 standard, $40 members.
Also know: Underwritten by the Bernard Osher Foundation as part of the Good Lit Series.