Past Event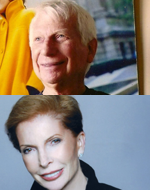 Mon, Nov 5 2012 - 6:00pm
Deborah Strobin and Ilie Wacs: A Startling Tale of Personal Triumph
Deborah Strobin, Philanthropist; Co-author, An Uncommon Journey
Ilie Wacs, Fashion Designer; Artist; Co-author, An Uncommon Journey
Sydnie Kohara, Broadcast Journalist – Moderator
Strobin and her brother Wacs fled from Nazi Austria to the Shanghai Jewish ghetto. Hear their story of escape from Vienna to Shanghai to the U.S. during World War II and the ultimately uplifting tale of survival as seen through the eyes of two children with their different memories of the period that shaped their lives. Today, Strobin is a well-known San Francisco philanthropist, and Wacs is a highly successful fashion designer and prominent artist. Join these two as they tell their remarkable story and put a spotlight on a piece of Holocaust history that's not widely known.
Location: SF Club Office
Time: 5:30 p.m. networking reception, 6 p.m. program, 7 p.m. book signing
Cost: $20 standard, MEMBERS FREE, $7 students (with valid ID)
Also know: Part of the Good Lit Series, underwritten by The Bernard Osher Foundation. In association with the The Jewish Family and Children's Services Holocaust Center.
ORDER TICKET ONLINE HERE, OR CALL OUR BOX OFFICE AT 415-597-6705.