Past Event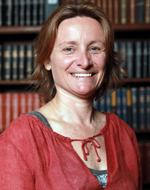 Tue, Oct 30 2012 - 6:00pm
Doctors Without Borders and the Necessity of Compromise
Sophie Delaunay, Executive Director, Doctors Without Borders/Médecins Sans Frontières (MSF) in the United States
The Nobel Prize-winning organization Doctors Without Borders/Médecins Sans Frontières negotiates life-and-death issues for people in need, but this humanitarian space is also "negotiating space," where compromise is not only inevitable but necessary. In the current context, is it getting more difficult to reach compromises – and who decides what is an acceptable compromise? Come hear Delaunay, executive director for MSF in the USA, reflect on MSF's recent medical humanitarian responses in Sri Lanka, Somalia, Yemen, Afghanistan and Haiti. Based on research done by MSF, she explores the purposes of negotiations, the justification MSF uses for its political choices, as well as how the landscape has changed from the Cold War to the global war on terror.

MLF: International Relations/Health & Medicine
Location: SF Club Office
Time: 5:30 p.m. networking reception, 6 p.m. program, 7 p.m. book signing
Cost: $20 standard, $8 members, $7 students (with valid ID)
Program Organizer: Paul Clarke
Also know: In association with the NorCal Peace Corps Association, United Nations Association and the Truman National Security Institute.
IF YOU ENCOUNTER DIFFICULTIES PURCHASING TICKETS, PLEASE CALL OUR BOX OFFICE AT 415 597 6705