Past Event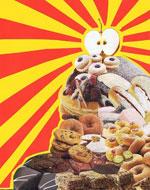 Fri, Nov 4 2011 - 12:00pm
Food Fight! The Battle to Bring Healthy Food to the State's Poorest
Dana Harvey, Executive Director, Mandela Marketplace
Ken Hecht, Executive Director, California Food Policy Advocates
Sue Sigler, Executive Director, California Association of Food Banks
Jason Mark, Co-manager, Alemany Farm; Editor-in-Chief, Earth Island Journal- Moderator

"Natural and healthy" chatter pervades much of today's food dialogue, but this conversation is failing to engage a huge portion of the population. Disenfranchised communities house the highest rates of malnutrition and obesity. The diet offerings in poor neighborhoods are mostly fast food; fresh, chemical-free, unprocessed foods are widely unavailable. Come learn about the extent of the crisis and discover the creative ways that organizations are trying to resolve this issue.
Location: SF Club Office
Time: 11:30 a.m. check-in, noon program
Cost: FREE
Also know: Underwritten by The California Wellness Foundation. Image by JenTheMeister.