Past Event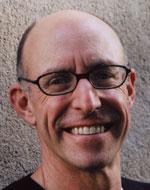 Wed, Jan 27 2010 - 7:30pm
2010 Silicon Valley Reads: One Book, One Community Kickoff Event
Michael Pollan, Author, The Ominvore's Dilemma and In Defense of Food
Mike Cassidy, Columnist, San Jose Mercury News
According to Pollan, the advent of "nutritionism" has vastly complicated how Americans see food, without doing very much for our health. Nutritionism arose to deal with genuine issues – addressing chronic diseases such as obesity, diabetes and many cancers – but now seems to be obscuring and perpetuating the real problems of the American diet, says Pollan. His opening manifesto is simple: "Eat food. Not too much. Mostly plants." Learn how living by this deceptively simple advice could immensely improve your life.
Location: Campbell Heritage Theatre, 1 W. Campbell Ave., Campbell
Time: 7:30 p.m. program, 8:30 p.m. book signing
Cost: FREE
Also know: Photo by Ken Light. Seats are first come, first served. Co-presented by the Santa Clara Office of Education, Santa Clara County Library, San Jose Public Library Foundation and The Commonwealth Club.