Past Event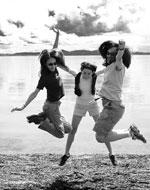 Thu, Jul 9 2009 - 6:30pm
Single Women of a Certain Age, with Jane Ganahl and Friends
Litquake co-founder Ganahl assembles a chorus of sophisticated, edgy and humorous voices who tackle the topic of being female, unmarried and in one's prime in Single Women of a Certain Age. In this inspiring evening, she will read from poignant and witty essays about women flying solo at midlife. Joining Ganahl will be contributors Kathi Kamen Goldmark, author of "And My Shoes Keep Walking Back to You," Wendy Merrill, author of "Falling Into Manholes," State of California Commissioner Ronnie Caplane, and stage actress Anne Buelteman, who spent 11 years on the national tour of "Les Miserables" in North America and Asia.
Location: Veterans Memorial Hall, 3780 Mt. Diablo Blvd., Lafayette
Time: 5:30 p.m. check-in, 6:30 p.m. program
Cost: $12 members, $18 non-members, $7 students
Also know: Bookseller: Lafayette Bookstore. Photo by Flickr user matildaben.