Past Travel
The Red Sea, Nile Valley & the Holy Land
With four nights aboard the M.Y. Harmony V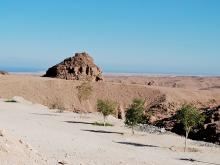 Sun, January 23, 2011
-
Fri, February 04, 2011
Five thousand years of human history, achievement and faith are explored on this one-of-a-kind journey through Egypt, Jordan and Israel. Join us as we sail along the ancient trade routes of the Red Sea aboard the exclusively chartered M.Y. Harmony V, an intimate, deluxe ship with only 25 cabins.

Stand face to face with the Sphinx in the shadow of Giza's pyramids. Spend one night in the awe-inspiring city of Luxor to visit the Pharaonic splendors of the Nile Valley, including the Valley of the Kings and the Temple of Karnak. Wind through dramatic wadis to the sixth-century Monastery of St. Catherine at the foot of Mt. Sinai. Bask in the glory of the legendary "Rose-Red City" of Petra, hewn from sandstone cliffs by the ancient Nabataeans 2,000 years ago, and discover the sacred sites of the Holy Land in the ancient cities of Jerusalem and Nazareth.

A Cairo Pre-Program Option is also offered.
Travel Cost:
From $4,795, per person, based on double occupancy