Featured Program
The LGBT Journey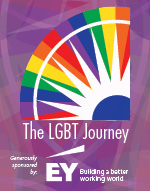 Seldom does social change happen so quickly. From the Mattachine Society to Harvey Milk to federal marriage equality and beyond, the LGBT journey has built upon the lessons of previous civil rights efforts, moving with particular speed in the past couple years. But the journey isn't quite over. This August, the Commonwealth Club shows how this happened, what it means today, and where it's headed — all in a month of special programming exploring the new social and political reality for LGBT citizens.
This month-long series of special programming is generously sponsored by Ernst & Young.
Upcoming Events
There are no events for this program.