About Club Events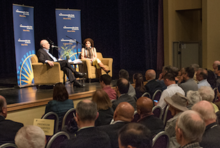 Programs at the Commonwealth Club bring the most engaging and important public figures and issues before our members and the Bay Area general public.
Our Featured Events bring the nation's leading men and women to our members and the general public. These events take place throughout the bay area.
Related Club activities also include a monthly art exhibit, weekly language classes and international travel.
Room rentals, with special rates for our members, are available for our downtown office in San Francisco.
We also hope you will give us feedback on our events and send us your speaker suggestions.
Request a sign language interpreter, assistive listening device or other accommodation for any event.
Propose a Speaker
The Commonwealth Club regularly accepts speaker proposals from our members, the general public and professional publicists.
Proposals for Featured Events, the Club's most high-profile programs, are considered by our volunteer Program Committee on a monthly basis and by our Program Department staff as needed.
Most Club programs are scheduled two-to-six months in advance.
The volunteer-led Study Sections also accept proposals for program ideas on specific topics.
To propose a speaker to the Club, contact the Program Department by e-mail to programs [at] commonwealthclub [dot] org, fax or mail (see our contact page).
Please include information such as:
The name of the speaker, a specific topic and a short biography that includes the speaker's qualifications to speak on the proposed topic.
The name and affiliation of the person proposing the speaker.
Additional supporting materials such as press clippings of other speeches or book publicity materials.
If possible, audio or video of a speaker is appreciated.