California Book Awards
The Commonwealth Club of California is pleased to announce the Finalists for the 83rd annual California Book Awards for books published in 2013.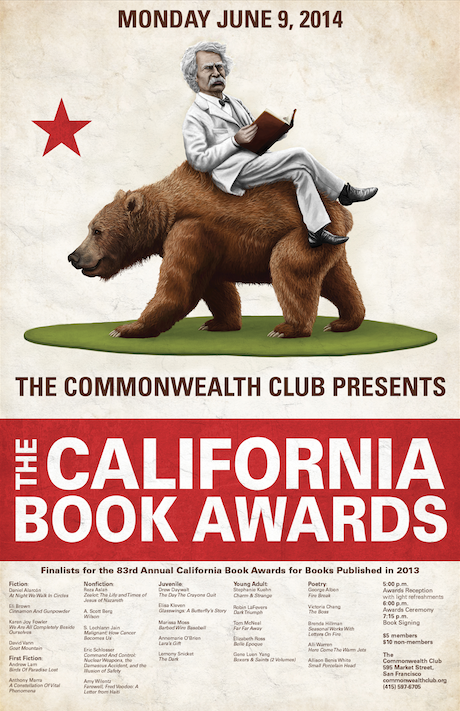 The Commonwealth Club of California's 83rd Annual California Book Awards Finalists are:
FICTION
Daniel Alarcon: At Night We Walk in Circles, Riverhead Books
Eli Brown: Cinnamon and Gunpowder, Farrar, Straus and Giroux
Karen Joy Fowler: We Are All Completely Beside Ourselves, Putnam/Marian Wood
David Vann: Goat Mountain, HarperCollins
FIRST FICTION
Andrew Lam: Birds of Paradise Lost, Red Hen Press
Anthony Marra: A Constellation of Vital Phenomena, Hogarth
NONFICTION
Reza Aslan: Zealot: The Life and Times of Jesus of Nazareth, Random House
A. Scott Berg: Wilson, Putnam
S Lochlann Jain: Malignant: How Cancer Becomes Us, University of California Press
Eric Schlosser: Command And Control: Nuclear Weapons, the Damascus Accident, and the Illusion of Safety, Penguin Press
Amy Wilentz: Farewell, Fred Voodoo: A Letter from Haiti, Simon & Schuster
POETRY
George Albon: Fire Break, Nightboat
Victoria Chang: The Boss, McSweeney's
Brenda Hillman: Seasonal Works With Letters On Fire, Wesleyan University Press
Alli Warren: Here Come The Warm Jets, City Lights Publishers
Allison Benis White: Small Porcelain Head, Four Way Books
JUVENILE
Drew Daywalt: The Day The Crayons Quit, Philomel
Elisa Kleven: Glasswings: A Butterfly's Story, Dial Publishing Group (Penguin Book Group)
Marissa Moss: Barbed Wire Baseball, Harry N. Abrams
Annemarie O'Brien: Lara's Gift, Alfred A. Knopf Books for Young Readers
Lemony Snicket: The Dark, Little, Brown Books for Young Readers
YOUNG ADULT
Stephanie Kuehn: Charm & Strange, St. Martin's Griffin
Robin LaFevers: Dark Triumph, Houghton Mifflin Harcourt Books for Young Readers
Tom McNeal: Far Far Away, Alfred A. Knopf Books for Young Readers, an imprint of Random House Children's Books
Elizabeth Ross: Belle Epoque, Delacorte Books for Young Readers
Gene Luen Yang: Boxers & Saints (2 Volumes), First Second
The Selection Process
Each year, The Commonwealth Club receives hundreds of books from California's rich literary community for award consideration. The California Book Awards Jury continues to uphold the same strict standards as the original 1931 jury and is comprised of 12-15 California professionals with a diverse range of views, backgrounds and literary experience The jury spends several months assessing entries, narrowing down the submitted works to a group of finalists, and lastly, selecting the medalists. The wealth of submissions reflects the ever impressive talent of writers in the Golden State.
History of the Book Awards
On the evening of June 11, 1931, then Club President James A. Johnston announced the creation of an award whose goal was to foster literature within the Golden State. "It is hoped and expected," he said, "that the recognition afforded by these annual California Commonwealth Club Literature Medals will be a spur and an encouragement to many a California author in this and future years."
The awards soon gained the recognition for which Johnston had hoped. To date, many prominent writers have received a California Book Award. In fact, literary historians credit The Commonwealth Club Book Awards as among the first to recognize the talent of John Steinbeck, who received three Gold Medals between 1935 and 1939. The Club became embroiled in controversy after awarding Steinbeck his third Gold Medal for The Grapes of Wrath, which triggered a series of protests throughout the state. Although the Club was criticized for acknowledging a book which portrayed California in a poor light, eventually, The Grapes of Wrath silenced critics and became an American classic.
Today, the California Book Awards are one of the oldest literary awards in the United States. The Commonwealth Club has recognized over 600 California authors and publishers for outstanding contributions to the art of the written word.
Categories and Awards
The California Book Awards strive to annually recognize the state's best writers and illuminate the wealth and diversity of California-based literature. The California Book Awards began in 1931 with two gold medals – one for a work of fiction and one for nonfiction. Through the years, several more categories have been added along with the inclusion of silver medals. Currently our categories consist of Fiction, Nonfiction, Poetry, Juvenile Literature, Young Adult Literature, First Work of Fiction, Californiana, and Notable Contribution to Publishing.
The Commonwealth Club is now accepting submissions for the 84th annual California Book Awards for books published in 2014.
If you have other questions, please email bookawards@commonwealthclub.org.