Past Event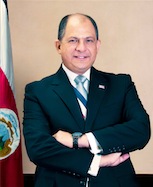 Mon, Jun 9 2014 - 6:30pm
Creating A Competitive Hub for High-Tech Manufacturing and Services in Latin America
San Jose Mayor Chuck Reed — Introduction
Akiko Yamazaki, Board Member, Wildlife Conservation Network; Philanthropist - Moderator
Costa Rica's newly elected president, will address how this country has evolved into a high technology leader in Latin America. President Solís will share with the audience the priorities that his government will undertake to continue providing and enabling the right business climate in Costa Rica and fostering foreign direct investment. He will be speaking in San Jose, the sister city to San Jose in Costa Rica.
Before becoming president of Costa Rica in April 2014, he has served as a professor, politician and diplomat. He has also held management positions in philanthropic and multilateral organizations in Costa Rica and internationally.

He studied history at the University of Costa Rica and subsequently received a scholarship for post-graduate studies at Tulane University in New Orleans. He obtained a Master's degree in Latin American Studies, majoring in history and political science.
Location: San Jose Repertory Theatre, 101 Paseo De San Antonio Walk, San Jose
Time: 6 p.m. check-in, 6:30 p.m. program
Cost: FREE
Also know: In association with the World Affairs Council of Northern California
Outreach Partners: City of San Jose, San Jose Repertory Theatre, VivaFest!
Please see driving directions and parking information