Upcoming Event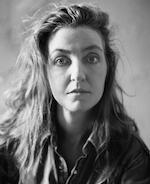 Thu, May 29 2014 - 6:00pm
Rebecca Solnit, Author, The Faraway Nearby
Award-winning San Francisco author Solnit reaches beyond her own life to the stories she heard and read that helped her navigate the difficult journey through her mother's illness, disintegrating memory and eventual death. Exploring the essential elements of empathy for dealing with irreparable loss, Solnit has created a marvelous Russian doll of a book with a narrative as rich as the fairy tales she recreates.
MLF: Humanities
Location: SF Club Office
Time: 5:30 p.m. networking reception, 6 p.m. program, 7 p.m. book signing
Cost: $20 non-members, $8 members, $7 students (with valid ID)
Program Organizer: George Hammond
Also know: Photo by Jim Herrington
---
The Faraway Nearby
Thu, May 29 2014 - 6:00pm
Note:
To receive a member discount, make your ticket selection above and click "Order Now."
At the bottom of the next page, enter your member ID number in the field at the bottom of the page. (Your member ID number can be found on your Club membership card.)
Family and Leadership Circle members are entitled to 2 member-priced tickets.
All other members are entitled to 1 member-priced ticket.
All ticket sales are final.