Upcoming Event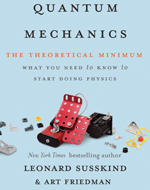 Thu, May 22 2014 - 6:00pm
Leonard Susskind, Felix Bloch Professor of Theoretical Physics, Stanford University; Co-author, Quantum Mechanics: The Theoretical Minimum
Art Friedman, Data Engineer; Co-author, Quantum Mechanics: The Theoretical Minimum
Come hear physicist Susskind and data engineer Friedman present a lively and accessible introduction to a famously difficult field, the theory and associated mathematics of quantum mechanics, which attempts to understand the behavior of sub-atomic objects through mathematical abstractions. Susskind and Friedman offer crystal-clear explanations of the principles of quantum states, uncertainty and time dependence, entanglement and particle and wave states, among other topics. They provide a tool kit for amateur scientists to learn physics at their own pace.
MLF: Science & Technology
Location: SF Club Office
Time: 5:30 p.m. networking reception, 6 p.m. program, 7 p.m. book signing
Cost: $20 non-members, $8 members, $7 students (with valid ID)
Program Organizer: Chisako Ress
---
Leonard Susskind & Art Friedman: Quantum Mechanics - The Theoretical Minimum
Thu, May 22 2014 - 6:00pm
Note:
To receive a member discount, make your ticket selection above and click "Order Now."
At the bottom of the next page, enter your member ID number in the field at the bottom of the page. (Your member ID number can be found on your Club membership card.)
Family and Leadership Circle members are entitled to 2 member-priced tickets.
All other members are entitled to 1 member-priced ticket.
All ticket sales are final.