Upcoming Event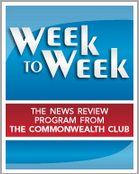 Fri, Mar 14 2014 - 12:00pm
Larry Gerston, Ph.D., Professor of Political Science, San Jose State University; Political Analyst, NBC Bay Area; Author, Not So Golden After All: The Rise and Fall of California; Twitter @lgerston
Carla Marinucci, Senior Political Writer, San Francisco Chronicle; Twitter @cmarinucci
Bill Whalen, Research Fellow, Hoover Institution, Stanford University; Twitter @hooverwhalen
John Zipperer, Vice President of Media & Editorial, The Commonwealth Club — Host
It's another election year, and each Week to Week political roundtable program will take a look at the issues and the people in local, state, and national politics. In its first two years, Week to Week has become a must-attend political discussion and social event. Join our panelists for informative and engaging commentary on political and other major news, audience discussion of the week's events, and our news quiz!
And stay after the program to meet other smart and engaged individuals and discuss the news over snacks and wine at our member social (open to all attendees).
Location: SF Club Office
Time: 11:30 a.m. check-in, noon program, 1 p.m. wine-and-snacks social
Cost: $15 non-members, $5 members, $7 students (with valid ID)
---
Week to Week Political Roundtable and Member Social 3/14/14
Fri, Mar 14 2014 - 12:00pm
Note:
To receive a member discount, make your ticket selection above and click "Order Now."
At the bottom of the next page, enter your member ID number in the field at the bottom of the page. (Your member ID number can be found on your Club membership card.)
Family and Leadership Circle members are entitled to 2 member-priced tickets.
All other members are entitled to 1 member-priced ticket.
All ticket sales are final.