Upcoming Event
Yosemite Rim Fire Spring 2014 Forecast: Repair, Restore and Renew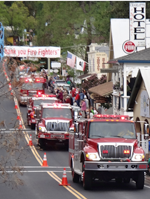 Michael Carlin, Deputy General Manager, San Francisco Public Utilities Commission
Larry Cope, Director of Economic Development, Tuolumne County Economic Development Authority
Joe Litehiser, Ph.D., Senior Scientist, Bechtel Corp.; President, Friends of Camp Mather
Eric Wesselman, Executive Director, Tuolumne River Trust
The Yosemite Rim Fire of 2013 was the largest fire in Yosemite's history. The fire impacted communities, homes, water resources and other public and private lands and properties. Compounding the fire damage, the winter rains and snow create more erosion and more damage to the already scorched earth, forest, meadows, river systems, watersheds, local economies and businesses. Four experienced experts, Carlin, Cope, Litehiser and Wesselman, will discuss what happens next. They will address the difficulties, major concerns and the path forward to recovery and restoration – a pathway for renewal for all of us who cherish this wondrous and treasured environment.
MLF: Environment & Natural Resources/Business & Leadership
Location: SF Club Office, 595 Market Street, San Francisco
Time: 5:30 p.m. networking reception, 6 p.m. program, 7 p.m. book signing
Cost: $20 non-members, $8 members, $7 students (with valid ID)
Program Organizer: Ann Clark
Note:
To receive a member discount, make your ticket selection above and click "Order Now."
At the bottom of the next page, enter your member ID number in the field at the bottom of the page. (Your member ID number can be found on your Club membership card.)
Family and Leadership Circle members are entitled to 2 member-priced tickets.
All other members are entitled to 1 member-priced ticket.
All ticket sales are final.