Upcoming Event
Eric Schlosser and Joseph Cirincione: Reducing the Nuclear Nightmare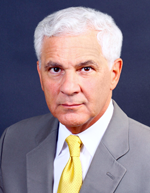 Joseph Cirincione, President, Ploughshares Fund; Author, Nuclear Nightmares: Securing the World Before It's Too Late
Eric Schlosser, Journalist; Author, Fast Food Nation and Command and Control
Hear startling new information about the dangers surrounding the storage of nuclear weapons in the United States and the proliferation of these weapons in such places as Iran, North Korea and Pakistan as well as possible steps to reduce these threats. Cirincione is a member of Secretary of State John Kerry's International Security Advisory Board and the Council on Foreign Relations. Famed investigative journalist Schlosser has recently uncovered secrets about the management of America's nuclear arsenal. He will discuss accidents, near misses, extraordinary heroism, and technological breakthroughs. Both will address how the combination of human fallibility and technological complexity still poses a grave risk to mankind.
Location: SF Club Office
Time: 5:30 p.m. check-in, 6 p.m. program, 7 p.m. book signing
Cost: $20 non-members, $12 members, $7 students (with valid ID)
Note:
To receive a member discount, make your ticket selection above and click "Order Now."
At the bottom of the next page, enter your member ID number in the field at the bottom of the page. (Your member ID number can be found on your Club membership card.)
Family and Leadership Circle members are entitled to 2 member-priced tickets.
All other members are entitled to 1 member-priced ticket.
All ticket sales are final.