Upcoming Event
Should I Sleep in His Dead Wife's Bed?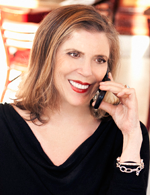 Wed, Dec 18 2013 - 5:15pm
Barbara Rose Brooker, Author
There is much to be said about often-overlooked dating and romantic love after 60, according to Barbara Rose Brooker, the original "boomer hottie." She will share excerpts from her latest novel, Should I Sleep in His Dead Wife's Bed? Brooker is also the author of a weekly column for The Huffington Post, which details her romantic exploits in the Bay Area.
MLF: Grownups
Location: SF Club Office
Time: 4:45 p.m. check-in, 5:15 p.m. program
Cost: $20 non-members, $8 members, $7 students (with valid ID)
Program Organizer: John Milford
Note:
To receive a member discount, make your ticket selection above and click "Order Now."
At the bottom of the next page, enter your member ID number in the field at the bottom of the page. (Your member ID number can be found on your Club membership card.)
Family and Leadership Circle members are entitled to 2 member-priced tickets.
All other members are entitled to 1 member-priced ticket.
All ticket sales are final.