Past Event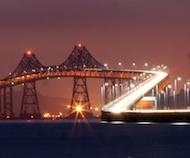 Mon, Jun 17 2013 - 12:00pm
Kim Malcolm, Director, CleanPowerSF
Shawn Marshall, Mill Valley Council Member; Executive Director, Local Energy Aggregation Network
Marcie Milner, Senior Regulatory Manager, Shell Energy North America
Hunter Stern, Business Manager, Brotherhood of Electrical Workers
Rising interest in clean power is presenting electric monopolies with competition for the first time. Marin Clean Energy now gives consumers an alternative to PG&E, and San Francisco and Sonoma are preparing their own programs to offer consumers new options for powering their homes. Monterey and Santa Cruz counties are considering jumping on the consumer choice bandwagon, which is growing nationally.
In San Francisco, Shell Oil won the contract to deliver electricity generated from 100 percent renewable energy. But city supervisors are worried that the customer base is lacking. Opponents such as the International Brotherhood of Electrical Workers claim that higher rates would burden the community and point out that such local efforts are not required to generate new clean energy. How could community choice change the shape of electricity supply in San Francisco and other communities? Join us for a discussion of disruption, innovation and consumer choice.
Location: SF Club Office
Time: 11:30 a.m. check-in, noon program, 1 p.m. networking reception
Cost: $20 non-member, MEMBERS FREE, $7 students (with valid ID)
Also know: The speakers and audience will be videotaped for future broadcast on the Climate One TV show on KRCB TV 22 on Comcast and DirecTV. Photo by Flickr user Galileo55.