Past Event
A Guide to Getting Angel Investors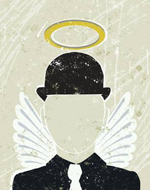 This program is sold out. You may add your name to the waitlist below.
Naval Ravikant, Co-founder, AngelList
Bill Clerico, CEO and Co-founder, WePay
Dave McClure, Founder, 500 Startups
Elad Gil, Serial Entrepreneur; Advisor; Investor
Christina Brodbeck, Entreprenuer and Angel Investor
Michael Copeland, Senior Editor, Wired - Moderator
The Bay Area is a modern mecca for innovators and tech go-getters - all of whom are looking for a way to fund their newest concept. Amidst more common means of financial backing (via VC firms, bootstrapping, and the newly trendy crowd funding), angel investment has quickly earned a reputation as the most elusive and sought after source of capital. Budding entrepreneurs are wondering - what makes my startup an attractive investment? How do I secure the support of these angels? How do I maximize my pitch? An intersection of incubation and venture capitalism, angel investing represents a whole new set of opportunities for getting your idea off the ground and maximizing returns. Join us and learn what angels and successful startup founders have to say about getting the investments you need to succeed.
Location: SF Club Office
Time: 6 p.m. check-in, 6:30 p.m. program, 7:30 p.m. networking reception
Cost: Regular: $25 standard, $15 members; Premium (includes reserved seating and premium reception; limited to 65 guests): $55 standard, $40 members