Past Event
Grover Norquist, Founder, Americans for Tax Reform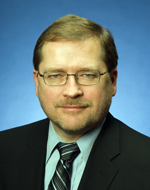 The Modern Republican Party and the Future of America
Jonathan Weber, West Coast Bureau Chief, Thomson Reuters - Moderator
Don't miss this chance to hear from anti-tax crusader, National Rifle Association board member and conservative leader Norquist, who as president of Americans for Tax Reform works to limit the size and cost of government, opposes higher taxes at the federal, state and local levels, and supports tax reform that moves toward taxing consumed income one time at one rate. Norquist organizes the Taxpayer Protection Pledge, which asks all candidates for federal and state office to commit themselves in writing to the American people to oppose all tax increases. In the 113th Congress, 219 House members and 39 senators have taken the pledge. A lightning rod for controversy, Norquist has been instrumental in helping direct conservative politics during the 21st century. Come ask your tough questions.
Location: SF Club Office
Time: 5:15 p.m. check-in, 6 p.m. program
Cost: General admission: $25 non-members, $15 members, $7 students (with valid ID). Premium (priority seating in the first few rows) $40 non-members, $30 members.
Also know: Part of The Commonwealth Club's Series on Ethics and Accountability, Underwritten by the Charles Travers Family. Attendees subject to search