Past Event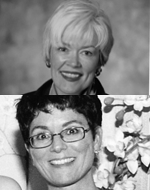 Tue, Feb 7 2012 - 5:15pm
Empowerment and Dementia: How Best to Engage Those with Memory and Behavioral Challenges

Jane Mahakian,
Ph.D., President/Founder, Aging Matters, Inc.
Cathy Murphy,
Owner, Home Instead Senior Care San Francisco
Through Aging Matters, Mahakian's basic principles of care involve promoting self-esteem and independence above all. She will discuss how to help promote emotional well-being of older persons with memory impairment through self-empowerment and validation. Murphy will introduce the life journal to develop and use when caring for seniors with Alzheimer's and other dementias. The life journal stimulates communication, preserves memories and establishes points of reference to use for managing difficult behaviors. Come learn from the experts excelling at helping those with dementia needs.
MLF: Grownups
Location:
SF Club Office
Time:
4:45 p.m. networking reception,
5:15 p.m. program
Cost:
$20 standard, $8 members, $7 students (with valid ID)
Program Organizer
: John Milford
Also know:
In association with San Francisco Village