Past Event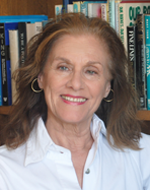 Wed, Jan 25 2012 - 5:15pm
Suzanne Braun Levine: Reinventing Love, Intimacy, and Sex After Fifty
SOLD OUT; You May Sign Up For The Waitlist Below.

Author, HOW WE LOVE NOW: Sex and the New Intimacy in Second Adulthood

No generation before ours has had the prospect of looking ahead to a second adulthood as long as the first. So the question "What Will I Do With the Rest Of My Life?" leaves us elated – and dazed and confused. We know that there must be love, but what does love mean now? To answer it, we need to evaluate our priorities, commitments, and relationships, including with ourselves. Levine says we also need to take inventory of the intimate connections that are already enriching our lives. Such reevaluations can be scary. Will my long-term marriage survive the process? In this new stage, people are exploring the many meanings of interdependence and writing a new love narrative as they live it.

MLF: Grownups
Location: SF Club Office
Time: 4:45 p.m. networking reception, 5:15 p.m. program
Cost: $20 standard, $8 members, $7 students (with valid ID)
Program Organizer: John Milford
Also know: In association with The Transition Network; San Francisco Village; Coming of Age: Bay Area; Civic Ventures.