Past Event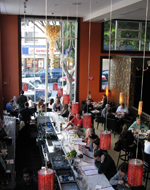 Wed, Aug 3 2011 - 6:30pm
SF's 2011 James Beard Award Winners: What Makes a Restaurant Great?
This program is sold out
Joshua Aidlin, Architect, Designer and Owner, Aidlin Darling Design; Owner and Designer, Bar Agricole; James Beard Award, "Outstanding Restaurant Design"
Paolo Lucchesi, Author, "The Scoop," SF Chronicle; James Beard Award, "Best Food Section"
Charles Phan, Owner and Chef, The Slanted Door; James Beard Award, "Who's Who of Food & Beverage in America Inductees"
Michael Tusk, Owner and Chef, Quince; James Beard Award, "Best Chef in the Region"
Marcia Gagliardi, Founder, Tablehopper.com and DeepDishing.com; Author, The Tablehopper's Guide to Dining and Drinking in San Francisco – Moderator
San Francisco is a city filled not just with a cornucopia of diverse foods, but with some of the best restaurants in the world. From the five-star food truck to the elegant sit down dinner, SF is a city richly known for its culinary accomplishments. To tell us what they think makes a restaurant great, we've asked some of the critics, designers, chefs and owners of San Francisco's hottest restaurants and also this year's James Beard Award winners. Deemed "the Oscars" of the food world' by Time magazine, the James Beard Foundation Awards are the country's most coveted honor for those in the restaurant industry. Join us to celebrate San Francisco's winners and to discover what's made them so successful.
Location: SF Club Office
Time: 6 p.m. check-in, 6:30 p.m. program, 7:30 reception
Cost: $20 standard, $12 members, $7 students (with valid ID)
Also know: Photo by mkasahara/Flickr