Past Event
Tavis Smiley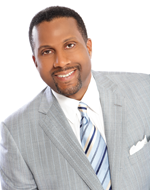 Tue, May 10 2011 - 12:00pm
Tavis Smiley
TV Host, PBS; Radio Host, PRI; Author, Fail Up: 20 Lessons on Building Success from Failure
Award-winning television and radio broadcaster Smiley gives a peek behind the curtain of success to share personal stories of his missteps, misdeeds and miscalculations. Smiley recounts 20 instances of perceived "failures" that were, in fact, "lessons" that shaped the principles and practices he steadfastly employs in his business and personal life today. Come learn how to turn your perceived failures into stepping stones for success from this legendary broadcast journalist.
Location: SF Club OfficeTime: 11:30 a.m. check-in, noon program, 1 p.m. book signingCost: $20 standard, $12 members, $7 students (with valid ID)Buy the Book: Purchase Fail Up by Tavis Smiley from The Commonwealth Club online bookstore. If you purchase it fewer than five days before the event, the book will be available for pickup at The Commonwealth Club on the day of the event. If you purchase it more than five days before the event, the book will be sent to your address.