Past Event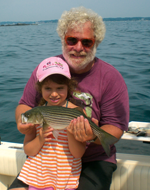 Mon, May 2 2011 - 7:00pm
Mark Kurlansky
Author, Cod, Salt and The World Without Fish
Alison van Diggelen, Host, Fresh Dialogues - Moderator
Former commercial fisherman and best-selling author Kurlansky examines the devastating effects of industrialized fishing and shares simple rules that families can use to help support sustainable fishing. In his new children's book, he depicts what's happening to the fish we commonly eat – tuna, salmon, cod and swordfish – and the domino effect it would have if it all disappeared in the next 50 years. Kurlansky will also be joined by his 10-year-old daughter and fishing companion, Talia.
Location: Carriage House Theater, 15400 Montalvo Rd., Saratoga
Time: 6:15 p.m. check-in, 7 p.m. program, 8 p.m. book signing
Cost: $20 standard, $12 members, $7 students (18 & under)
Also know: In association with Montalvo Arts Center and the Youth Science Institute. Underwritten by The Bernard Osher Foundation.