Past Event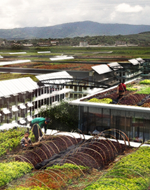 Tue, Sep 7 2010 - 6:30pm
Cradle to California
This program is sold out
William McDonough, Architect and Author, Cradle to Cradle
American architect McDonough and German chemist Michael Braungart started the Cradle to Cradle revolution in manufacturing and design. Now they want to drive that integrated thinking deeper into the heart of capitalism. How? By creating a startup in Silicon Valley. The Green Products Innovation Institute, which McDonough and Governor Schwarzenegger christened last spring, aims to transform the "making and consumption of things into a regenerative force for the planet." The institute will certify products to inform consumers and encourage corporations to use cleaner and more sustainable materials and processes. Does the world need another green seal of approval? McDonough says it's about much more than that. He's thinking big about architecture, manufacturing and transportation. And with his track record, he has the ear of captains of industry as well as activists including Brad Pitt. Join us for a conversation with one of the leading lights of the sustainability movement.
Location: SF Club Office
Time: 6 p.m. check-in, 6:30 p.m. program, 7:30 p.m. networking reception
Cost: $15 members, $25 non-members, students free (with valid ID). Premium (seating in first few rows) $35 members, $45 non-members.
Buy the book: Purchase William McDonough's Cradle to Cradle: Remaking the Way We Make Things from The Commonwealth Club's online bookstore. If you order the book fewer than 5 days before the event, it will be available for pickup at the Commonwealth Club on the day of the event. If you purchase it more than 5 days before the event, the book will be sent to your address.
Also know: Tickets not claimed by 5:55 p.m. may be released to people on a waitlist to be started at The Commonwealth Club at 5:30 p.m. on Sept. 7th. Speakers and audience will be videotaped for future broadcast on the Climate One TV show on KRCB TV 22 on Comcast and DirecTV. Sponsored by PG&E
Presented in association with the Institute at The Golden Gate.