Past Event
Yves Saint Laurent: Creating Power in Style for the Modern Woman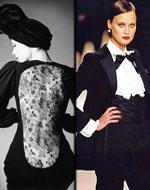 Yves Saint Laurent: Creating Power in Style for the Modern Woman
Julia Geist, Docent Lecturer, Fine Arts Museums of San Francisco
In the 1960s, master couturier and fashion pioneer Saint Laurent radically changed the way women dressed. His pantsuits and tuxedos – traditional symbols of male power – conveyed elegance and chic. This illustrated lecture is a retrospective of his imaginative and sexy designs through 40 years.
MLF: International RelationsLocation: SF Club OfficeTime: 5:30 p.m. networking reception, 6 p.m. programCost: $8 members, $20 non-members, $7 students (with valid ID)Program Organizer: Norma WaldenAlso know: Part of the Ascent of Woman series. In association with the Alliance Francaise de San Francisco and the French American Cultural Society.