Bright ideas are coming to The Embarcadero! 
Join us as we embark on this exciting new chapter in our 113-year history.
Contribute to our new home at 110 The Embarcadero today!

The Commonwealth Club has served as the nation's oldest and largest public forum for more than 11 decades. In all that time, we have never had a home of our own. Our founding members had hoped that one day the Club would have a dedicated place to promote civic dialogue. Similarly, the late Ambassador Shirley Temple Black spearheaded a campaign to find a home for the Club during her time as Club president in 1982. At long last, their dreams are coming true. The Club will have a permanent home of its own on San Francisco's beautiful waterfront.
---
Our permanent home will save us $600,000 in rent each year.
We will dedicate these savings to enhancing your Commonwealth Club
experience in every possible way. 
Construction is well underway, and we are on schedule to open our doors by late 2016.
---

Located on San Francisco's historic waterfront, our new building is walking distance from
the Ferry Building, surrounded by restaurants, and is served by nearby Bart, Muni and ferry terminals.

Our two new auditoriums will feature acoustical wood paneling that was reclaimed
from the historic joists and columns of the original building.
The second-floor auditorium will be equipped with a state-of-the-art

Constellation Sound System by Meyer Sound

.
---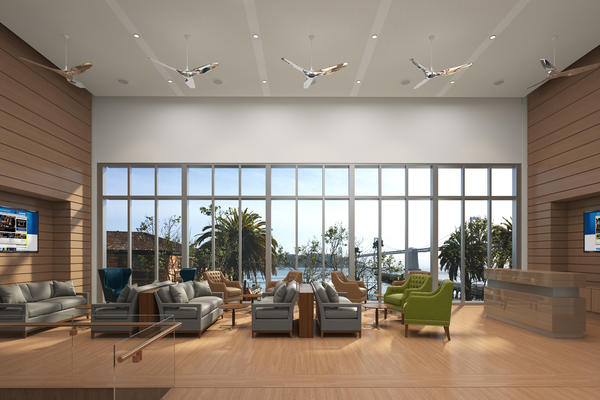 The lobby and lounge areas will be open and available to our members and the public
throughout the day. Our facilities will also be availble to rent for public functions.
---
We are at the 84-percent mark of our $28 million goal and have $3 million left to go

. 
We invite you to play a role in making San Francisco history by supporting this seminal campaign. 
Give to The Commonwealth Club's 2nd Century Campaign and
help us build our home for bright ideas.
or contact Vice President of Development Kimberly Maas,
at (415) 597-6726 / kmaas@commonwealthclub.org
---
We'd like to thank our generous sponsors
Applied Materials | Bank of America | Levi Strauss & Co. | Recology | Wells Fargo Bank Foundation | AAA Northern California, Nevada & Utah Exchange | Morrison Foerster | Latham & Watkins | DLA Piper | Interface | Chevron Corporation | Kaiser Permanente | Visa Inc. :