Past Travel
Lost Cities of Libya
From Tripoli to Apollonia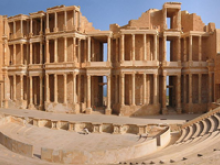 Given the current political situation in Libya, this program is currently on hold. Please send us an e-mail if you would like to be notified when plans to visit resume.

Libya was once the most desirable posting in the Roman Empire and this swathe of North Africa offers a landscape of remarkably preserved Roman cities, lush mosaics, and a distinct Berber culture. We look at not only these ancient sites, but discuss current issues around oil, the relationship between rulers and the population, Arab nationalism, and Islam.

Begin in Tripoli, a favored destination for caravans carrying gold and ivory as late as the 19th century. Explore the citadel which houses an excellent introduction to Libyan art from exquisite mosaics and ancient sculpture to Berber jewelry. Visit the ancient site of Sabratha where an aquamarine sea surrounds the remains of temples, houses and baths. Experience Leptis Magna, an ancient Roman city of extraordinary majesty and riches. Drive south through the Jabal Nafusa to the legendary caravan city of Ghadames with its maze of interlocking courtyards and covered streets. Discover the area known as Cyrenaica, the Hellenized region of eastern Libya. At the site of Qasr Libya lies the country's greatest example of mosaic art – a magnificent, Byzantine-era series of some 50 floor mosaics left in situ. Wander through the ancient cities of Cyrene and Apollonia.

Our study leader is Dr. Dirk Vandewalle, a specialist in the politics of development in North Africa, the Middle East and Southeast Asia; author of "Libya Since Independence" and "A History of Modern Libya"; and Professor of Government at Dartmouth College. He has visited Libya many times since the late 1970s, and for several years during the sanctions period was the only U.S. academic performing research in the country. In addition to his lectures he will lead group discussions following the special meetings that are included in our program.