Past Travel
Tanzania
Wildlife and Culture Safari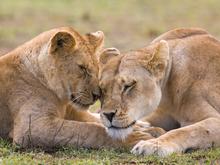 Wed, March 05, 2014
-
Sun, March 16, 2014
Commonwealth Club is excited to offer an exclusive safari to northern Tanzania. During this 10-day adventure, you will be immersed in the unspoiled landscapes of East Africa and meet some of these areas' most celebrated residents, including lion, elephant, cheetah, giraffe, rhino, and more. Our Study Leader for the trip is Dr. Landry Signé. (Bio below) In addition, meetings have been specially arranged to talk with community members to gain a better understanding about challenges facing the people today.
Explore Tanzania from Tarangire National Park where baobab trees tower overhead to the famous Ngorongoro Crater where 30,000 animals live within 102 square miles to Oldupai Gorge, the site of significant discoveries of human origins. No safari is complete without experiencing the mighty Serengeti, Tanzania's oldest national park. After visually spectacular days, retreat to eco-friendly tented camps offering comfort, superior service, and gourmet meals in the heart of the wilderness. Whether you are spotting a leopard, learning about local culture, or sharing stories around a campfire under the stars, Tanzania is, quite simply, an experience not to be missed!
Study Leader
Dr. Landry Signé is an international award-winning Banting Fellow (2011-2013) at Stanford University's Center on Democracy, Development and the Rule of Law (CDDRL), a lecturer in Emerging African Markets at Stanford University, a UAA Assistant Professor of Political Science and a serial social entrepreneur. He is directing a research project on the Evolution Of African Economies, Political Regimes, Governance, and Development In the 21st Century, to help high-level and influential public and private-sector leaders better resolve African challenges. He is also Chairman Of the award-winning Global Network For Africa's Prosperity, an initiative committed to improve the state of Africa by engaging "civil society, academic, political, business, media and international actors sharing a passion for Africa to join efforts in fostering Africa's development and shaping a better future for the continent".
Travel Cost:
$6,250 per person, double occupancy
Photos by Andy Biggs, and Quinlin