Upcoming Travel
Perspectives on Iran - Waitlisted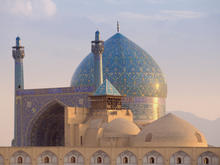 Thu, October 09, 2014
-
Thu, October 23, 2014
Join the Commonwealth Club on a journey through Iran, where vast monuments serve as testament to the extraordinary history of this country.

Begin in Tehran, where we have scheduled time to explore the country's capital, including a visit to the basement vault of the Bank Milli Iran to view the spectacular Crown Jewels. Discover the Blue Mosque and the town's colorful bazarr in Tabriz. Then journey to Shiraz for an excursion to the magnificent ruins of Persepolis – one of the most remarkable archaeological sites found in the Near East. We visit Yazd, the country's center of Zoroastrianism, where the most traditional Persian architecture is found. End the program in Isfahan, a town of unsurpassed beauty where brilliant blue-tiled buildings and majestic bridges are often recognized as the perfection of Islamic architecture. Throughout enjoy the excellent cuisine and art and the warmth of the people of Iran.
Study Leader, Azadeh Moaveni is an Iranian-American journalist and writer who specialises in covering Iran, having spent over a decade reporting throughout the region from bases in Cairo, Beirut and Tehran. She is a former Middle East correspondent for TIME Magazine, and currently writes widely on Iran for TIME, Foreign Policy, the Guardian, and other publications.
As one of the few American correspondents permitted to work continuously in Iran throughout the 2000s, Azadeh has reported extensively on Iranian youth culture, women's rights, social media and political change, and Iranian security issues, from the country's nuclear program to its ties with Hezbollah and Syria. Azadeh began her career in 1999 as a reporter in Cairo and joined Time magazine in 2000 as a Tehran and then New York-based reporter, covering society and political stories across the Middle East. In 2003, she became a correspondent for The Los Angeles Times to cover the war in Iraq. She has worked for the United Nations in Afghanistan and also writes book reviews for The New York Times Book Review and the Financial Times.
Azadeh has written two books – the bestselling Lipstick Jihad (PublicAffairs,U.S., 2005) and Honeymoon Tehran (Random House, 2009) – which focus on the country's youth culture, tangled ties with the West, and the rise of President Ahmadinejad. She is co-author of the Iranian Nobel Laureate Shirin Ebadi's memoir, Iran Awakening (Rider, 2007).
Travel Cost:
$5,995 per person, based on double occupancy