Past Travel
A China Romance
Dream Idyll of Southern Waters and Mountains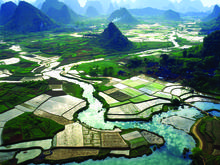 Sun, October 19, 2014
-
Thu, October 30, 2014

Join Study Leader Donald Gibbs and the Commonwealth Club as we explore Southern China's magnificent history and culture, as well as the exquisite landscapes of mountains and waters. We start in colorful Beijing and discover the stunning imperial architecture of the Temple of Heaven and the Forbidden City. Take in the sweeping views along the Great Wall at Mutianyu. Then fly to Guilin to experience southern China's karst mountains and special beauty. Immerse yourself in its sublime landscape of mountains, rivers and cascading rice terraces. Visit local villages for a sense of authentic rural life and enjoy a cruise down the Li River.

Visit Longsheng, a mountainous region of rice-paddies cultivated since the Song dynasty. Discover the West Lake, said to be the most inspiring synthesis of modernity and nature in Asia. Ultra-chic Hangzhou sits on its northern side, but the rest of the lake exudes age-old charm and cultural sophistication. Stroll the lovely lake and exquisite gardens, visit a tea plantation, and explore the grand architectural compound of the wealthy Qing dynasty merchant, Hu Xueyan. Finally, soak in the cosmopolitanism of Shanghai, the city that is vibrantly shaping China's future.

Several optional extensions are available to complete your journey. A Pre-Trip to Chengde, and Post-Trip extensions to the Huang Mountains or Xian & the Yangtze River.
Study Leader Bio:
Donald A. Gibbs, Emeritus Professor of Chinese, began his teaching career at Harvard and later founded the Department of Chinese and Japanese at UC Davis. He also founded the UC Summer Session in China which took him to China every summer. He was witness to dramatic changes in China as the country worked its way out of the political radicalism of the Cultural Revolution to the China that we see today. More recently he was the UC Education Abroad Director posted on the campus of Peking University. He is fluent in Chinese.
Travel Cost:
$4,295 per person, double occupancy