Past Travel
Shores of History: A Voyage from Virginia to Charleston
Exploring Landmark Cities, Stately Homes & Civil War Sites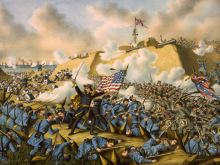 Mon, October 28, 2013
-
Thu, November 07, 2013
In 2011 the United States began a four-year commemoration of the 150th anniversary of the Civil War. Sail from Alexandria, down the Potomac River for an excursion to historic Fredericksburg, site of the infamous Battle of Fredericksburg, one of the largest of the Civil War. Explore Petersburg National Battlefield, and Richmond, the capital of the Confederacy, renowned today for its monuments to Confederate heroes. Along the North Carolina coast, discover the historic towns of New Bern, Morehead City, and Wilmington, each of which played crucial roles in Union battle victories. We conclude our voyage aboard the 138-passenger Yorktown in Charleston Harbor, where the war began in 1861 with the bombardment of Fort Sumter. Along the way learn from our Civil War experts.
Garry E. Adelman is the author, co-author, or editor of more than thirty books and articles concerning the Civil War. He is the vice president of the Center for Civil War Photography and has been a Licensed Battlefield Guide at Gettysburg for 18 years. He works full time as Director of History and Education at the Civil War Trust.

James Robertson, Alumni Distinguished Professor of History Emeritus at Virginia Tech, has received every major award possible in the field of Civil War History. Educated at Randolph-Macon College and Emory University, he is the author of over 20 books, including a biography of General "Stonewall" Jackson that was the foundation of the movie, Gods and Generals. Professor Robertson appears regularly on programs about the Civil War on the Arts & Entertainment Network, the History Channel, C-Span, and public television. His latest book, The Untold Civil War, focusing on the daily lives of soldiers and their sometimes quirky commanders, was published in 2011 by National Geographic.

Also on board is Stefanie Kies, lifelong singer and musician, for a special program that will explore the music of the Civil War. Through live musical performances and special readings, Stefanie and a group of fellow musicians will explore the lyrical history of the Civil War, looking at both the Union and Confederate musical lexicon. Bravado and marching songs, camp songs, songs of home, spirituals, and songs of victory and defeat will all be performed using authentic period instruments, including banjo, fiddle, bugle, harmonica, drums, concertina, and guitar.
Travel Cost:
from $5,395, per person, based on double occupancy

Free airfare from SFO! Book early for the best flights.