Past Travel
Exploring Tibetan Paths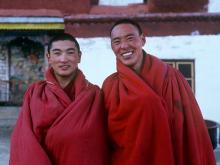 Sat, September 14, 2013
-
Sat, September 28, 2013
Explore China's rugged Yunnan province and legendary Tibet.

Meet with a local shaman, a language expert, and a writer/explorer in Yunnan. Chat with a university professor and craftsmen in Tibet, and watch the debates at Sera Monastery. Witness the dramatic landscapes of the Tibetan plateau and learn about the nomadic way of life. Try yak butter tea during a home visit, and meet with contemporary artists.

Experience sacred Buddhism sites, like the Jokhang temple in Lhasa, and some of China's most beautiful landscapes, like Tiger Leaping Gorge.

Visit the Shanghai Museum; take the high-speed Maglev train; and follow a prominent historian on a tour of the city's most famed and beautiful neighborhoods.
Travel Cost:
$6,795, per person, based on double occupancy