Past Travel
Ancient Sites, Rain Forests & Coral Reefs
Natural & Archeological Wonders of Belize and Guatemala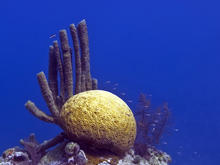 Sat, January 19, 2013
-
Sat, January 26, 2013
Join Ambassador Marilyn McAfee and Maya Expert Bruce Love as we explore the natural wonders and the marvels of Mayan art and architecture on this thrilling voyage to Belize and Guatemala aboard the 138-guest Yorktown. Belize is so rich in spectacular scenery and unspoiled wildlife habitats that it seems the entire country is a nature preserve. Expience the bird sanctuaries of Half Moon Cay and see the antics of howler monkeys in the tree tops on our visit to Mayflower Bocawina National Park. A short cruise away is Quiriguá, a UNESCO World Heritage site renowned for its exquisite Mayan carvings of gods, kings, and heroes. Then travel into the forests of Guatemala where portions of the Mayan city of Lubaantun are still covered with jungle foliage. Experience the teeming marine life along Belize's Barrier Reef before concluding our voyage at the beautiful nature sanctuary of South Water Caye.

And optional pre-cruise option to Tikal is available.
Travel Cost:
From $3,797 to $6,995, depending on cabin category.
FREE ECONOMY AIRFARE FROM SFO!!