Past Travel
Journey to Northern India:
Culture, Economy and the Pushkar Camel Fair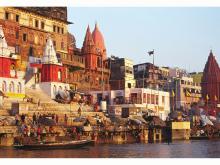 Tue, November 01, 2011
-
Tue, November 15, 2011
India is one of the most vibrant economies in the world, now growing at a steady rate of 7-9% every year. With a population of more than 1 billion and a burgeoning consumer class of more than 200 million, India has been identified by the U. S. commerce department as a critical market for its exporters. Liberalization and deregulation of several key sectors of the economy, such as telecommunications and aviation, have potentially opened those areas and other markets. There are hundreds of educational institutions in the country churning out large numbers of graduates and post graduates. With this highly-educated, ambitious, and young workforce, the country's biggest export is information technology.

Our trip to India will examine the remarkable crossroads of where the modern world intersects with life as it has been lived for millennia. From the capital city of New Delhi to the breathtaking vistas of Rajasthan, expect to be swept away by the colorful and breathtaking beauty. Admire the magnificent work of Mughal architecture in Agra, opulent forts and palaces of Jaipur, and the festive Pushkar Camel Fair. Explore the 15th-century Jain temple at Ranakpur with its exquisite marble carvings; marvel at the romantic lake city of Udaipur; and witness the Hindu rituals in Varanasi. We'll enjoy a connoisseur's collection of visual and performing arts with behind-the-scenes access to artists at work and private art collections. As expected on any Club trip, we learn from local experts about modern and ancient India during lectures and talks.